Amman - U.S. lawmakers are considering legislation that would tighten sanctions on Syria and impede normalizing relations with any Syrian government led by President Bashar al-Assad.
Some analysts say the bill would only hurt the Syrian people and not the Assad regime, while others argue sanctions will prevent Damascus from rebuilding and limit its attempts to consolidate its power over the country.
The bill, introduced by U.S. Representative Joe Wilson and some 35 colleagues, expands on the Caesar Act, which imposed a tough round of sanctions on Syria in 2020.
The new measure, known as the Assad Regime Anti-Normalization Act of 2023, would penalize Arab countries, such as Saudi Arabia and the United Arab Emirates, and others which have re-established diplomatic ties with the Assad government if they invest in Syria.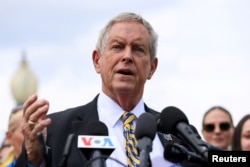 FILE - U.S. Representative Joe Wilson speaks during a press conference on Capitol Hill in Washington, April 25, 2023.
Wilson chairs the Subcommittee on the Middle East, North Africa and Central Asia.
The United States had pressed Arab states and allies to seek concessions from Assad before they re-admitted Syria to the Arab League, but that's believed not to have happened. Assad has remained unrepentant for atrocities against his people during the country's more than 12-year-old civil war.
Washington has said it will not normalize relations with Assad's government or support U.S. allies doing so. Observers say that the conflict has killed nearly a half million Syrians and displaced half of the country's pre-war population of 23 million.
Syria analyst Joshua Landis of the University of Oklahoma believes sanctions on the Assad regime will not bring justice to the Syrian people, but further impoverish them.
'How does the Caesar actions make Assad repent or bring justice to Assad?' Landis said during a Washington-based Quincy Institute webinar. 'It seems to me that the injustice they bring to the 16, 17 million people under the government control is infinitely larger than the inconvenience that it causes to Assad and his cronies who still live in palaces and everybody else is starving.'
Former U.S. Ambassador to Bahrain William Roebuck, who is the executive vice president of the Arab Gulf States Institute in Washington, explained the rationale behind the new sanctions.
'The driving force in those sanctions is we are not going to let Assad and his regime get away with this. It's not going to affect their quality of life, but it is going to prevent the regime from rebuilding. It's going to limit many things that the Assad regime would like to do to consolidate its power,' Roebuck said.
It is believed Arab states did not make any public financial commitments to rebuilding Syria during the Arab League summit. But they are pressing Damascus to stop its production and trafficking of captagon, an amphetamine estimated to be worth $10 billion a year to the regime.
If the U.S. House bill becomes law, a review for possible financial penalties would be triggered any time a country made an investment, grant, contract or donation worth more than $50,000 to parts of Syria held by Assad's government.
Assad still does not control the country's vast northeast or northwest.