washington - U.S. Treasury Secretary Janet Yellen said Friday the projected debt ceiling deadline is extended to June 5, four days later than previously estimated.
Yet, Yellen renewed her warning in a letter to Congress that inaction on raising the borrowing limit would 'cause severe hardship.'
Yellen's latest letter to legislators on the 'X-date' came as Congress broke for the long Memorial Day weekend. She said that the Treasury Department had deployed an extraordinary measure not used since 2015 to get the U.S. financial position to this point.
The X-date arrives when the government no longer has enough of a financial cushion to pay all its bills, having exhausted the measures it's been using since January to stretch existing funds.
Earlier Friday, House Speaker Kevin McCarthy said his Republican debt negotiators and the White House were straining to wrap up an agreement with President Joe Biden to curb federal spending and lift the nation's borrowing limit ahead of the fast-coming deadline.
They had hoped to end weeks of frustrating talks and strike a deal by this weekend. Treasury now says the government could start running out of money as soon as a week from Monday, sending the U.S. into a potentially catastrophic default with economic spillover around the world.
'The world is watching,' said International Monetary Fund Managing Director Kristalina Georgieva after meeting Friday with Yellen. 'Let's remember we are now in the 12th hour.'
Democrat Biden and the Republican speaker were narrowing differences, laboring to lock in details on a two-year agreement that would restrain federal spending and lift the legal borrowing limit past next year's presidential election.
Any deal would need to be a political compromise, with support from both Democrats and Republicans to pass the divided Congress.
'We know it's a crunch,' McCarthy said as he arrived at the empty Capitol, acknowledging more progress needed to be made.
In remarks at the White House honoring Louisiana State University's champion women's basketball team, Biden gave a shoutout to one of his top negotiators saying she's 'putting together a deal, hopefully.'
He was referring to Office of Management and Budget Director Shalanda Young who attended the event as did Representative Garret Graves of Louisiana, a top Republican negotiator.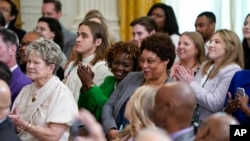 Shalanda Young, center right, director of the Office of Management and Budget, sits with White House press secretary Karine Jean-Pierre during an event to honor the LSU women's basketball team at the White House, May 26, 2023, in Washington.
While the contours of the deal have been taking shape to cut spending for 2024 and impose a 1% cap on spending growth for 2025, the two sides remain stuck on various provisions. The debt ceiling, now at $31 trillion, would be lifted for two years to pay the nation's incurred bills.
Lawmakers are tentatively not expected back at work until Tuesday, just two days from the June 1 'X-date' when Treasury Secretary Yellen had said the U.S. could face default.
Biden will also be away this weekend, departing Friday for the presidential retreat at Camp David, Maryland, and Sunday for his home in Wilmington, Delaware. The Senate is on recess and will return after Memorial Day.
Weeks of negotiations between Republicans and the White House have failed to produce a deal - in part because the Biden administration resisted negotiating with McCarthy over the debt limit, arguing that the country's full faith and credit should not be used as leverage to extract other partisan priorities.
Meanwhile, Fitch Ratings agency placed the United States' AAA credit on 'ratings watch negative,' warning of a possible downgrade.